Everything began 36 years ago with the pictures of the moon landing. As a boy, I might follow with my father the landing of Apollo 11 live on the television.
Since then these pictures are stamped in my mind, and the fascination of the weightlessness is a dream remaining. Everything that has to do with astronautics and the universe.
A few years ago, I read from parabolic flights in America. However, they were costly and, therefore, also no subject for me. When I heard that in Russia such trips are offered, I came along on the Internet on the search and went on the side of Space Travellers and announced my interest by email.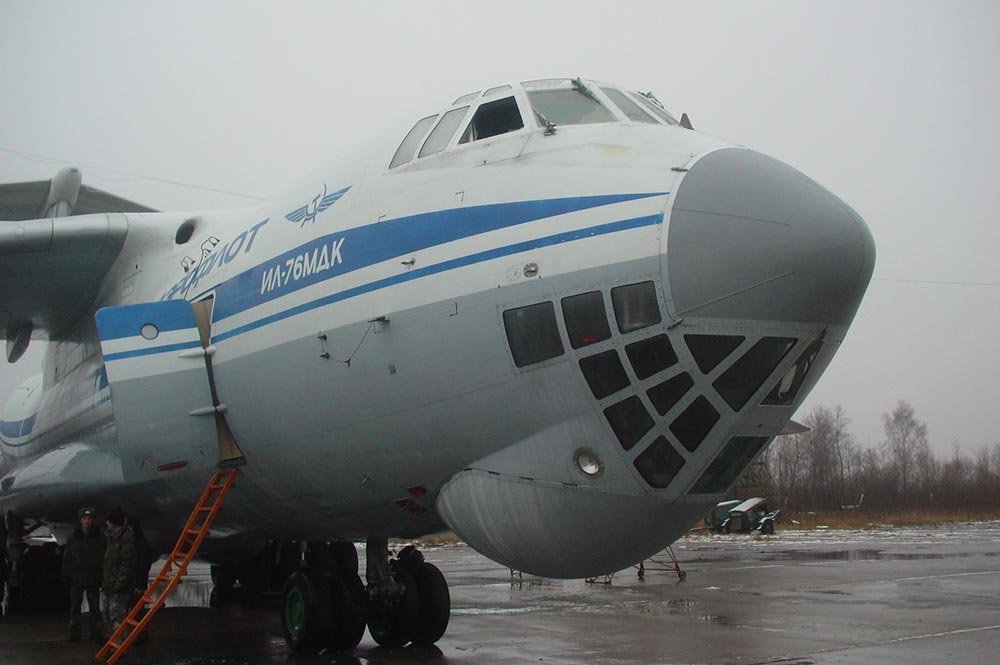 The Ilyushin 76MDK of the Yuri A. Gagarin Cosmonaut Training Center
From then on, everything went very fast. Andreas Bergweiler, the CEO of 'Space Travellers' from Germany phoned me. Now I had to decide whether my dream becomes a reality, or whether there should remain furthermore only one dream! I decided on the first variant, but I do not notion myself, what would come up. Date, registration, Check-up with the doctor and visa, everything seemed to go exceptionally merely as if it is the most every day in this world.
Then 4 days before the takeoff everything was cancelled! The whole airspace was closed because of military practice, and all Ilyushin 76 were in use in the military operations! My world was broke down for me! For 35 years I had waited for this moment, and with a telephone call, everything was done, niece. However, a little time later a new date was determined, and thus I could hope again. Up to the last day, I was sceptical whether this time also folded everything. And it worked! As the only Swiss, I flew from Zurich to Moscow. There it was snowing at below 0 degrees! I waited for the group from Germany. After I met them, the transfer by a minibus was followed to Star City, a cosmonaut's town with about 6,000 inhabitants. There took place short information about the Zero-G flight with next day's flight crew of the Ilyushin 76 MDK. After that, we have had a brief but however luxuriant night food with beer - but without Russian vodka! In the end, we had to get up already at 6 o'clock? Everybody still got an original overall of the NASA, we were very much glad about it.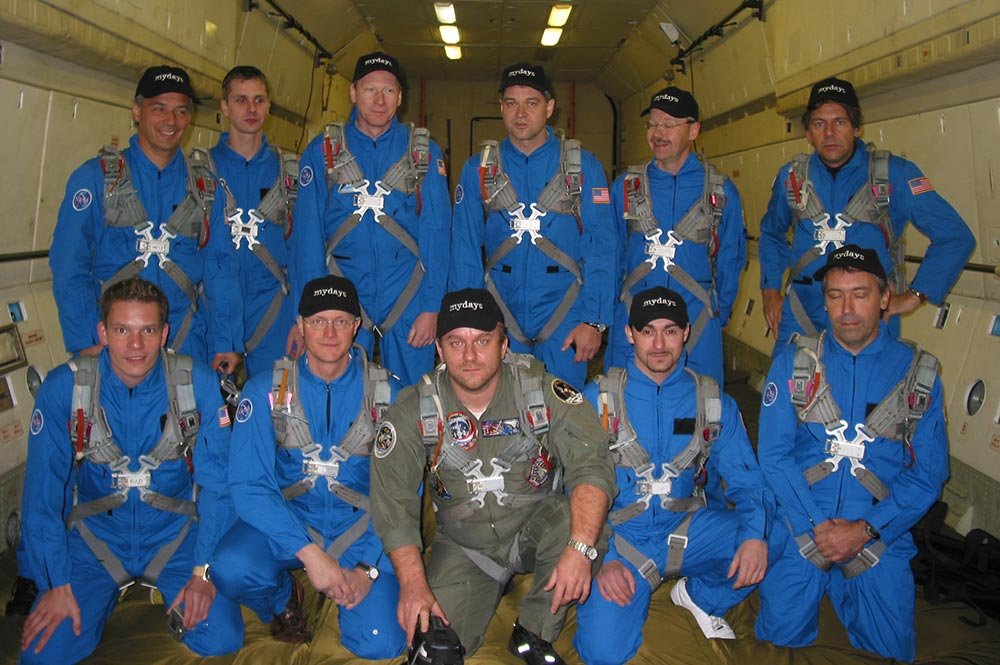 The Zero-G flight participants with Andreas P. Bergweiler
We went after a short night and - for myself - very modest breakfast (coffee, water, banana) to the Chkalovskiy-Airbase. We talked a little, everybody was deepened in his thought, and nobody of us actually knew what comes. When we drove in the military area of the Airbase, there was a little annoyance! The Russians had no joy in our suits with American flags and wanted which we remove them! Because they were pinned, that would be no simple to unpinned it. Then, nevertheless, after a few negotiations by Andreas and the responsible person, it was no more problem. Suddenly our Ilyushin 76 stood in front of us. What a view!
The machine was much more imposing than I thought! It was ice-cold, below 0 degrees and the ground crew were to be defrosted the aeroplane, what calmed me not necessarily. Barely getting, each of us received a parachute. Nothing with weightlessness, but at first additional 20 kg on the back! Then, half an hour of instruction like one with the parachute. How to makes a forced landing in all variations in a field, in the forest and in the water. Besides, there was to dissolve itself in different ways from his parachute, and I hoped only that it would get not so far. The chutes are to be worn only during the takeoff because the Ilyushin owns no seats, would be planned originally as a transport plane; otherwise, it was a waste of space.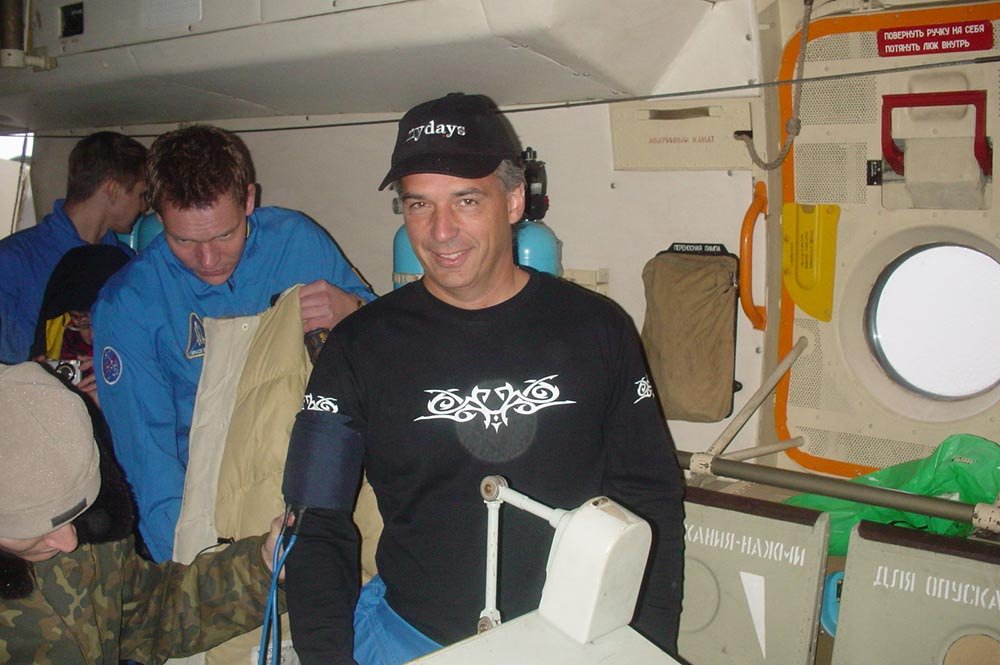 Pierre during the medical check
Then we waited and waited. After nearly 2 hours we got the message: the flight is cancelled because of bad weather and ice rain. 'Safety first' called it then: o.k. We took it easy, tomorrow is also a day, and we wanted to risk even nothing. We unfastened our parachutes again and waited for new events. Nevertheless, after some time something was going on in the aeroplane: the occupying-crew whirled around, and everybody took a seat. After a few minutes, it was apparent to us we would nevertheless take off? Not necessarily reassuringly by the announcement shortly before. Again parachute belted, and already went off it. After we had come on the flight altitude of 6,000 metres, we might file the chutes. Finally, I felt a little freer.
Only now it became clear to me that it would become not an easy walk! There were no seats, and I had to keep during takeoff firmly to a pole. The steep tracks lasted quite a while, and I do specific thoughts to myself, whether it was really the right decision. A voice from the loudspeaker tore me from my thoughts. I understood at first no word, it was Russian; nevertheless, I knew that now something would happen. At the same moment, I felt, my body was compressed. 'This is the 2-G phase' I thought and tried to lift my stretched leg: no chance, incredibly! Shortly after a new instruction, and already I was we in the air! I kept where I could because only the smallest movement accelerated my body in all directions! An insanity feeling, finally, this weightlessness and I just enjoyed this moment. After 27 seconds the gravitation entered again, and I landed rudely on the matted ground. The 2-G's approached again! And again I was paralysed and waited on the 0-G. This time, I was confident a little bit more and flew on the other side without any strain! What a feeling! I hung on the cover and forgot that I had to go to bottom before the gravitation reinstated. Luckily an instructor pulled me at my leg down to earth!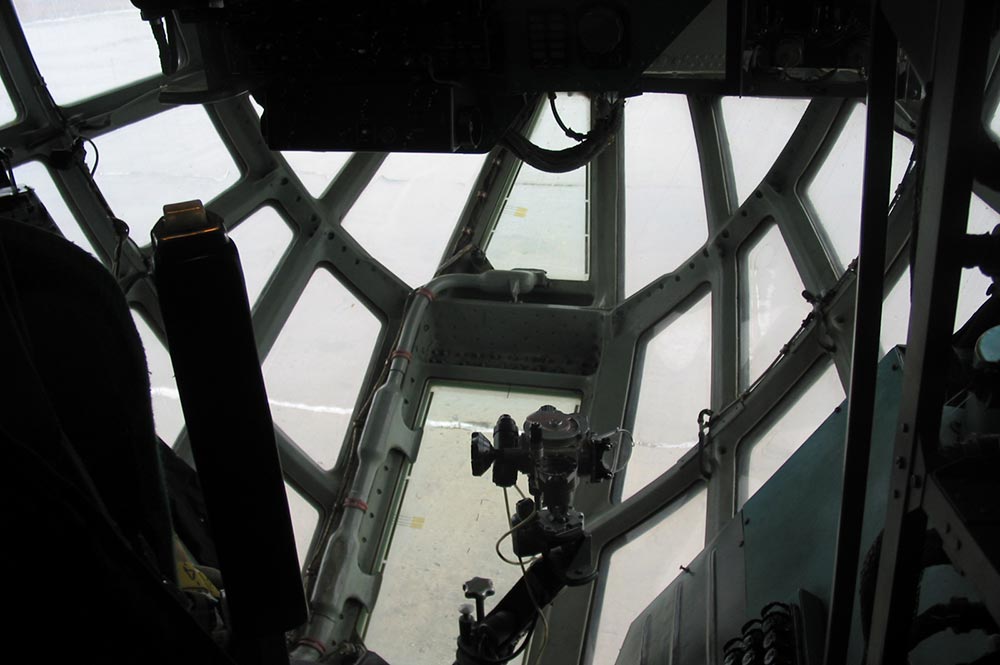 The navigators cockpit of the Ilyushin 76MDK
After the 3-rd parabola, I started to sweat quite strongly, and it became terrible to me. Dung ... I had to vomit! An instructor had already noticed it and stretched to me a vomit bag there, unfortunately, arose only gastric acid. With the next 2 further parables, I tried to relax and to breathe quietly what I also managed. Now, however, I still wanted to perpetuate the whole one and made a photo and attempted one to film what was not so easy if there is weightlessness. The forces on earth are not right here at all anymore, one is in a new dimension which is totally strange. With the last and 10-the parabola it was again not more so elegant with my feelings, and from one point of view, I was glad as it was over.
I would never have thought that the load on the body would be so extreme! However, after the landing, it went well with me again, but I was exhausted as I would have done 2 marathons one after the other! Afterwards, by the delay in the morning, we have had lunch, and later, we drove to the Gagarin museum located inside of Star City. It was fascinating, but I would have preferred my bed! Then, finally, before night food I could lie down one hour. Then I had so accurately hunger and was glad about Russian cuisine! Besides, we could exchange our experiences. Most had compassion with me because I felt sick for some time so. Nevertheless, I have enjoyed it.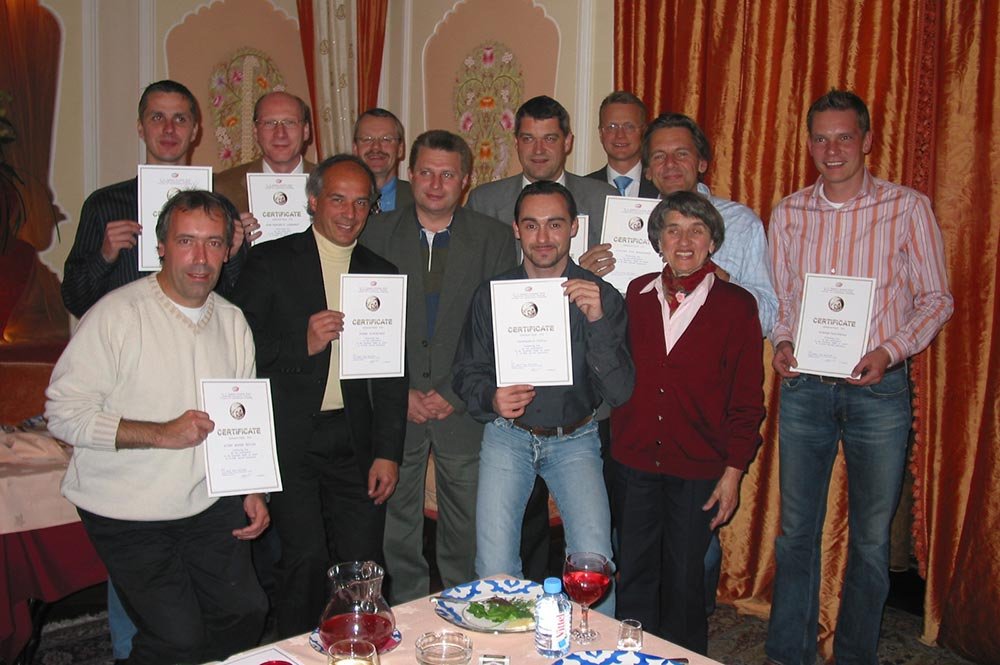 Flight certificates handed out by cosmonaut Yuri Ornufrijenko
It was an experience which I will never forget. And who knows, maybe it was not my last 0-G flight! After this flight we agreed on everyone, to have done something that the fewest people in this world will experience. From us to participants, to a team and a friendship, which will remain everlasting to us in this short time.
Do not dream your life, live your dream!
Many thanks to Andreas Bergweiler, CEO of Space Affairs, which allowed me to have this unique experience of my life!
Pierre Schöchlin, October 2006
---
Pierre, an independent physiotherapist from Switzerland, dreamed since 1969 of space.
Then he ventured the step into weightlessness, while he and a group of fearless men took part in our Zero G Expedition.