Since 2011 I am working on the series "outer space", which deals with the latest developments in spaceflight and its influence on our future life on Earth and near-Earth orbit. In this work, I am one of Virgin Galactic's Pioneer Astronauts. Shortly, I will lift-off with the SpaceShipTwo by myself to space.
At the beginning of 2012, I contacted Space Affairs to organise a cosmonaut training in world legendary Star City/Russia.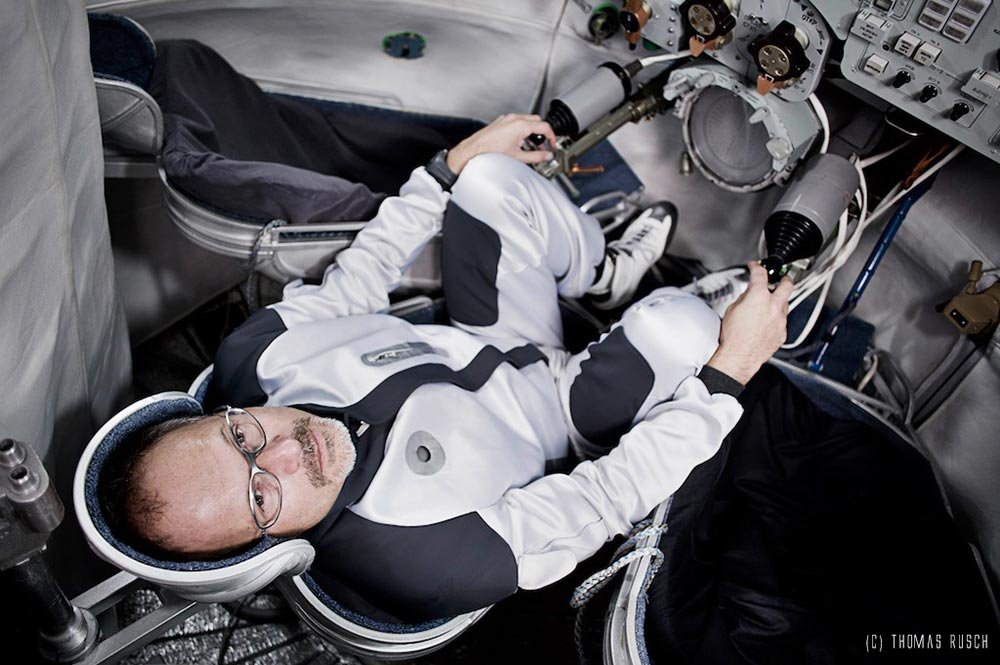 Michael Najjar inside the Soyuz simulator, GCTC
This training should serve the preparations for my space flight, but also simultaneously implemented performative and artistic issues. An unusual and complex request which required an expert like Andreas Bergweiler of Space Affairs.
After months of planning and meetings, he has made the impossible possible. Together with my friend and photo colleague Thomas Rusch, I travelled to Star City to complete parts of a cosmonaut training to realise complex and never carried out the photo and video productions. Focal points of the practice were a spacewalk simulation with a Russian spacesuit "Orlan" in the big hydrolab at the Gagarin Cosmonaut Center and an edge of space flight with a MIG-29 - unique and unforgettable experiences.
Planning, preparation and execution of the project were performed at the highest professional levels. Thanks to the extraordinary and vast experience of Mr Bergweiler and his excellent contacts and tireless commitments, this project could be realised.
For the famous quotation "failure is not an option", Mr. Bergweiler of Space Affairs has accepted any yet so complicated requests and developed solutions. The execution of my training and art project that never was done in this form in Star City up today was only possible with the help of Andreas Bergweiler's team and partners.
Michael Najjar https://www.michaelnajjar.com
Photos © Copyright Thomas Rusch https://thomasrusch.com
---
Michael Najjar represents an exceptional phenomenon of the artists who have taken up the topic of space and crewed space travel.
He not only composes images in unique algorithms (hybrid photography), he also exposes himself to the events themselves. He belongs to the group of people who reveal themselves to the challenges of space training and the associated dangers but is the best trained upcoming Suborbital Space Flight Participant.